A unique opportunity for kids and teens to learn in a team environment
Overview
Americana Music Academy started out as a group learning experience providing group classes for Lawrence and regional residents on guitar, ukulele, mandolin, banjo, voice and other instruments. In light of the global COVID-19 pandemic, we had to put many of our group musical activities on hold. We are thrilled to begin offering youth ensembles again!
 JUNE 2023 – POP SONGWRITING YOUTH ENSEMBLE (TBD)
Instructor: Matthew Mulnix.  4-week youth songwriting ensemble open to students in middle or high school, culminating in a public performance. Some guitar/ukulele/keyboard knowledge necessary. Discounted rate for current Americana students. To enroll, email americanamusicacademy@gmail.com.
Group experience with musical peers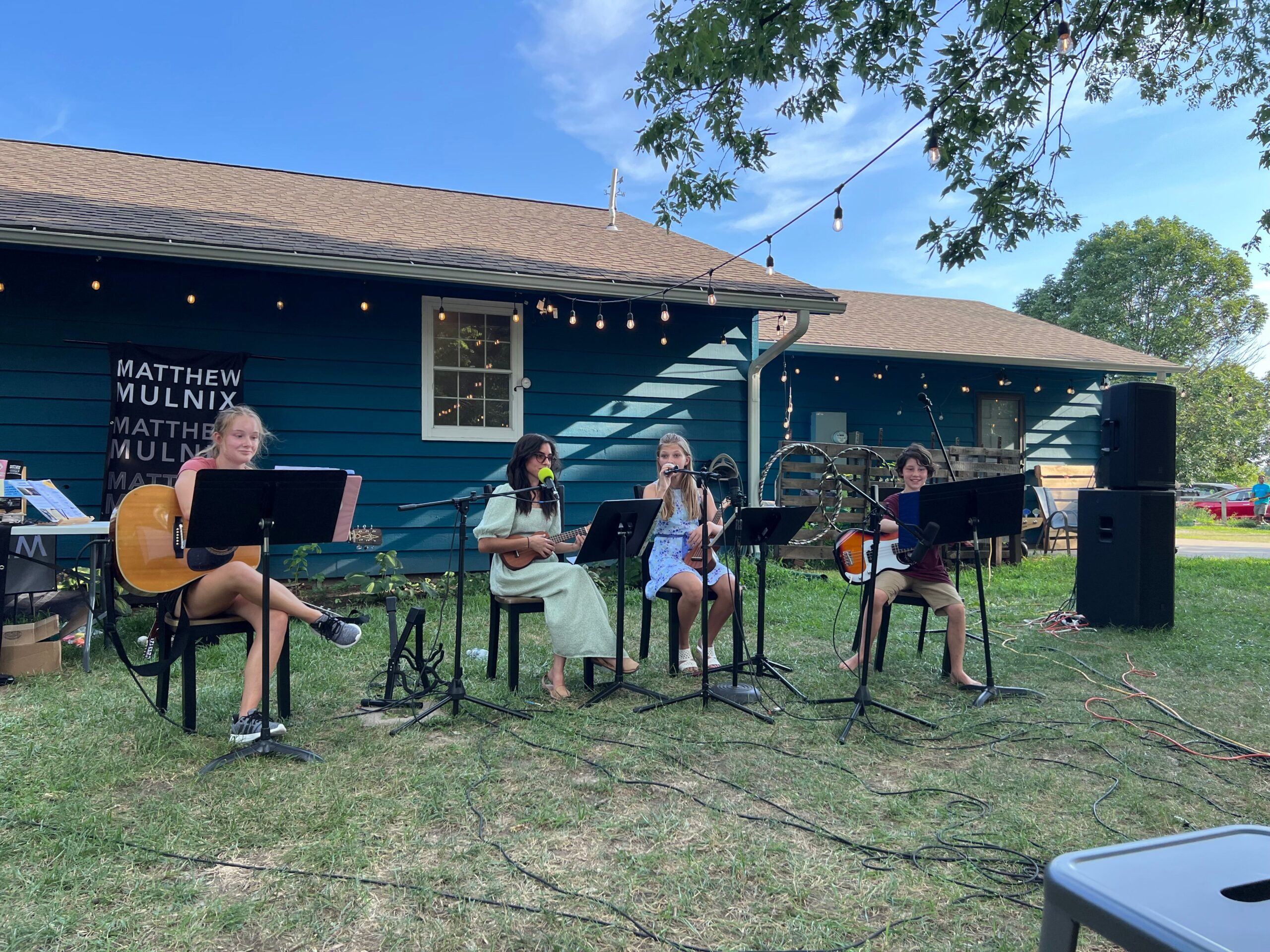 Frequently Asked Questions
How do I sign up for lessons?
There are three simple ways to get more information about signing up for classes with Americana Music Academy
1. Fill out any of the forms on this website. Someone will get back to you within 48 hours (hopefully much sooner!)
2. Email us at americanamusicacademy@gmail.com
3. Call us during normal business hours at 785-830-9640. If nobody picks up, please leave a detailed message!
How much do lessons cost?
Private lessons cost $30 per 30-minute session, or $120 per month. If you're a college student, inquire about our college student discount! We also award scholarships, which are open to any student, on six-month cycles.
Where do lessons take place?
We offer in-person lessons at our schoolhouse at 1419 Massachusetts St, Lawrence KS 66044. We also have several instructors who continue to offer remote / virtual lessons using the videoconferencing software of your choice (Zoom, Google Meet, Facetime, etc.)
What protocols are in place to combat the COVID-19 coronavirus?
We work diligently with our board of directors and local public health authorities to develop practices to ensure the safety of our teachers and students. We are offering both virtual and in-person lesson options at this time, and teachers establish their own mask policies at this time.
What instruments does Americana teach?
Here at Americana we're proud to teach a wide variety of instruments and musical styles, including improvisation, songwriting and production. For a complete list, please see elsewhere on the website and this list will be updated continuously as we bring more instructors on board!
Do you provide live sound options for corporate events, weddings and private shows?
Americana Music Academy has a state-of-the-art sound system that can provide any live audio that you might need for your event. Please contact us at americanamusicacademy@gmail.com for more details and to reserve your sound system and engineer.